Welcome to the N.I.A Database - Please Login to ensure full confirmation.
LOGIN USERNAME: XXXXXXXXXX
PASSWORD: XXXXXXXXX
PLEASE WAIT......
..........
......
....
...
..
.
Login Confirmed! Welcome XXX. XXXXXXX XXXX
*OPENING FILE - Tac8 - Sub-machine Gun*
..........
......
....
...
..
.
 :: Tac8 SMG - Information ::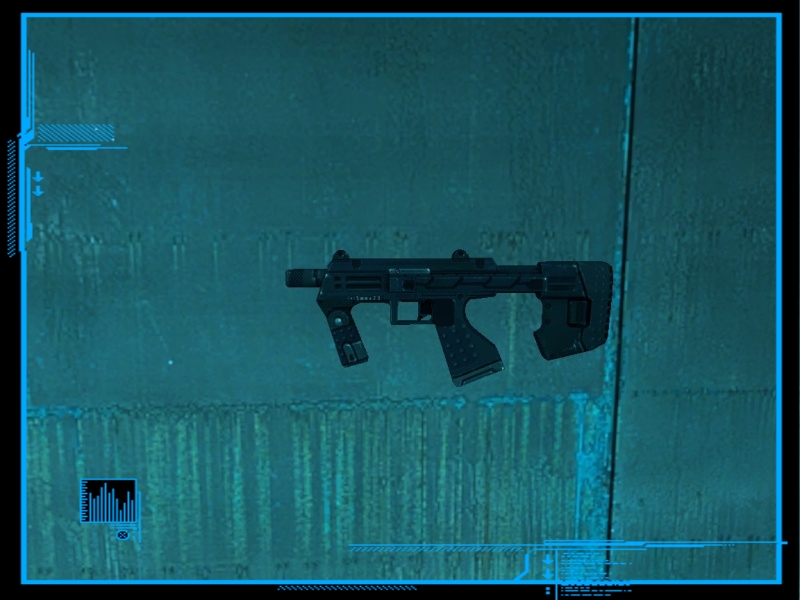 Name:- Tac8 SMG
Manufacturer: MSA Industries

Caliber:- 5x23 Full Metal Jacket

Action:- Gas-Operated

Magazine:- 60 Rounds

Rate of Fire:- 700 Rounds Per Minute 

Fire Mode/s:- Full-Automatic / Semi-Automatic

---
Notes:- Heavy Reinforced Butt Stock and pistol grip for close encounters.
Development:- The TAC Series have been a series which the New International Alliance have been familiar with since the formation of MSA Industries. Though as with most of the TAC series, they have only changed design and mechanisms without any of the TAC series being phased out by any of the main forces of police forces of the Alliance. The TAC-8 is commonly used by Crewmen and also Alliance Reconnaissance forces and is used by many other branches also which can find use in an Personal Defense weapon. The TAC-8 SMG has been in active service with the New International Alliance since the start of the Mageran / Alliance war. Though as with most TAC series weapons, it is only designed for close quarters engagements. Though this weapon is not really favored to be used by many branches in some engagements, it has been known to be an adaptive weapon to be used at a medium range, proving to be quite useful on the field. The TAC-8 has proved its worth to be a reliable weapon, easy to clean and operate and it also has an incredibly lightweight material to have it be used as even a secondary weapon to be used and switched to for when the TAC-8 is needed to be used. Making it into an incredibly useful Personal Defense Weapon to be used by most handlers with ease. 
____________________________________________________________________________________________________________________________________________________________________________________________
[SN-O] Archer: Fuck sake Dinu
【Okarin】: xD
【Okarin】: >If her age is around the clock. She's old enough to take the cock!
[SN-O] Archer: LOL