Welcome to the N.I.A Database - Please Login to ensure full confirmation.
LOGIN USERNAME: XXXXXXXXXX
PASSWORD: XXXXXXXXX
PLEASE WAIT......
..........
......
....
...
..
.
Login Confirmed! Welcome XXX. XXXXXXX XXXX
*OPENING FILE - Military Grade Biogel*
..........
......
....
...
..
.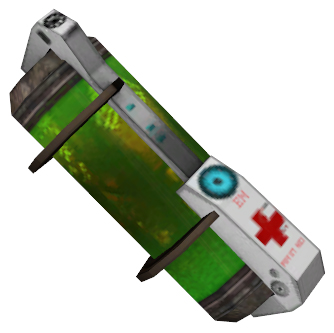 Note worthy healing substance used primarily by the military and hospitals, Biogel is considered a high quality quick fix. Soaking in/pouring gel onto open wounds (or injecting, if internal), heals through the following methods:



- Rapid production and introduction of hematopoietic stemcells to repair muscle, bones, and internal organs. Stem cells will find there place in helping produce blood cells as well.


-Small amount of nanobots that 'take over' for the brain, monitoring the functioning of organs, breathing, etc. This allows the brain to focus more on repairing the body, helping along the hematopoietic stemcells in their work.


-Anti-biotics automatically administered


-Numbing agent introduced


-Nerve guidance conduits introduced to help repair nerve tissue

Primary forms of application come as follows:

-Vat style:  typically used for heavy/full body injuries. (breathing apparatus required.)


-Bath style: used for heavy injuries.


-Biokit (Health kit): carries multiple tubes of biogel. Apply as necessary.


-Biovial: Tube of biogel with built in syringe on one side, twist-able cap on other.


-Bio-shower: Similar to showers used in labs, usually one bio-shower on station. Pull handle down to release, stand under, remove clothing (if able). For use after heavy burns/large amount of mild cuts. Typically used after accidents/misfires/mortar shelling.

Biogel can repair nearly all wounds within a couple of hours, though the affected area will remain sensitive.


At all times, combat medics must carry eight biovial tubes (in kinetic/ballistic case w/ foam inside to cushion) on belt or in pack. Two biokits must also be carried at all times, in pack towards top.